Robert Kiyosaki's Cashflow 101, 102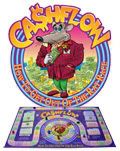 Tom and I have been spending a rather sizable chunk of our free time playing Cashflow 202. We have both Cashflow 101 and 202, but I'm speaking for the both of us when I say I like 202 better. It's more "challenging".
You can see Tom's evident like of the game since he refers to commonplace expenses such as taxi fare, green mangoes, movies, and even an ice cream stick as "Doodads".
Anyway, did you know that there's also a website called
Rich Woman
? It's more tailored for women and our needs. To visit the site, go to
www.richwoman.com
.
Subscribe to The Blue Speckled Diary by Email
twitter.com/BrazenLass
facebook.com/cathylaine
This Blog on Facebook
Buy Reviews