How a Muriatic Acid Addict does not Die
Of course you've heard of several cases of suicides wherein the thing used to take away the life is gulping down muriatic acid, right?
Muriatic acid, or hydrochloric acid, here in the Philippines is used as a cleaning agent, especially for tiled surfaces. It smells terrible, can burn through your skin, and can cause suffocation, Just imagine what it will do to your internal organs if you use it as a water substitute. Creepy, huh?
But I know this guy who is so addicted to muriatic acid, yet he is as healthy as ever and has not experienced any poisoning, not even the minutest suffocation.
Want to know how he does it?
Seriously?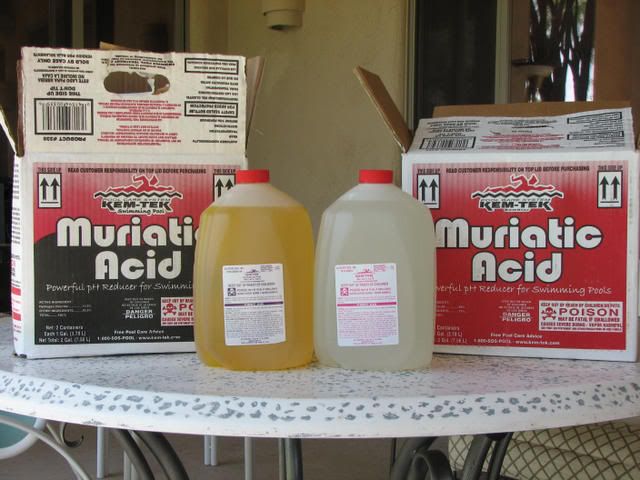 Okay, so here's how he does it:
He just pours it on everything he wants cleaned. Yes dear people, everything. In our bathroom, kitchen sink, living room floor, the patch of paved cement just outside our door, the cracked and damaged tiles just before the entrance to our dirty kitchen - everything! And he loves the vision of bubbling tiles because of the dirt and grime and mildew that gets chemically melted because of the acid. He's a
hydrochloric/muriatic acid addict
! He just doesn't like the smell.
That's it.
Lol!
Anyway, I've been a bit quiet with my twitter account, so to my dear followers, please pardon me, and friends, thank you for the #followfriday mention. Very special thanks to the following tweeps:
@gschan
,
@maikeru76
,
@medic_ray
,
@QueensOnly
.
To all my friends who forgot to mention me with the #followfriday hash tag, hmm, maybe next time? And to those who has not followed me yet, you can still catch me at
@BrazenLass
On a side note:
Don't forget to
Bookmark or Share
this to your friends and family, or
subscribe to The Blue Speckled Diary by Email
for free updates!
photo credits to rrgone.