Absentee Voters go for Gibo Teodoro
Let's Celebrate!!!
See transcription for the translations. Take note that "Ate" here in not the English term for the past tense of eat; it's a Filipino term for older sister, pronounced as [ah-teh]..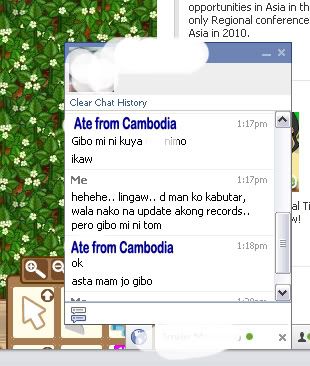 Ate from Cambodia:
Gibo kami ng kuya mo..
(Your Kuya and I are [voted] for Gibo)
Ikaw
(You?)
Me:
Hehehe.. Katuwa...
(Hehehe, amusing...)
Di ako makakaboto kasi di ko na-update records ko.. pero Gibo kami ni Tom.
(can't vote this time because i failed to update my [registration] records.. but Tom and I are for Gibo)
Ate from Cambodia:
ok
pati si Mam Jo, Gibo
(Mam Jo also [voted] for Gibo)
Heck, yeah.
:)