Formally Welcoming A New Member of the Family
Yes, you're thinking quite straightly. But may not be interpreting correctly though. lol!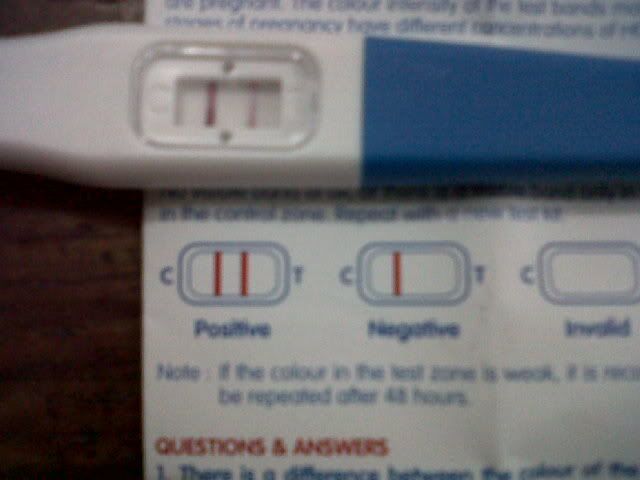 This is just to follow suit on Tom's
facebook announcement
that he has just formally turned into a father-to-be. "Formally" because the first 2 tests we did were just over-the-counter testing kits and we wanted a more formal way of being confirmed so we went to Hi-Precision to get tested. I'll upload some more pictures of the kits and Tom's excitement when they become available for upload.
I was a bit worried too because I couldn't feel that I was in the mood for sharing urine samples, but heck, Tom gave me 3 cups of water just so I can go through with it already.
After 2 hours, we went back to the lab and got the results, the releasing person was all smiles with her congratulatory releasing of the paper that said it was POSITIVE. And so started Tom's shouting and smiling while driving along the roads of Cebu City going back to Ken's house. He was going almost ridiculously berserk.
So anyway, to cut it short, I guess today, I'm on my
4th week
when the method of computation used is based on the day of conception or the "actual" fetal age of the baby. If you want to try this out, you can get the conception date and other details by using this
Due Date Calculator
and then inputing that date into this
Weekly Pregnancy Calculator
to determine how far along you are.
I haven't gone to an OB yet and I haven't bought any pre-natal supplements or vitamins. All I'm taking now is Anmum. I accept donations too. Hahaha! The OB should be Cebu-based and affordable too.
Do you have any recommendations or suggestions? ;)