Unsolicited P.O.V. on Loren Legarda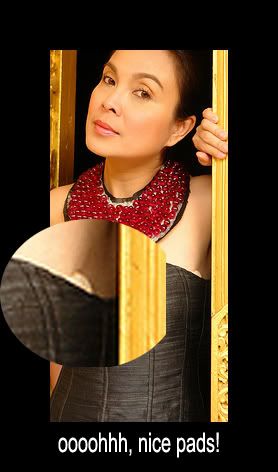 Would anyone of a kind soul tell Loren Legarda that she has to stop SAYING ALOUD that she will win the elections?!
Frankly speaking, as a viewer and an observer of the events of this year's national elections, everytime survey results are published and announced in the news and Loren is asked about what she has to say about her sinking lower and lower, all she says is that,
"Bahala na po ang survey kung sino sa ating mga kalaban ang panalo sa survey na yan, basta alam po natin na ang mga tao nasa atin po ang boto, at sa huli ay tayo po ang mananalo sa eleksyon dahil tayo po ang gusto ng taongbayan."
Oh please! Give me a break! What happens to those of us who still needs convincing is that we get ticked by listening to her overconfidence. Even if she means well, can somebody just please tell her that she has a choice, and that is to just keep quiet. Believe me, every time she opens her mouth and says things like that she sounds more and more like her opponents - the ones she so hates and refers to every time she gets interviewed by media or maybe the ones she always throws mud on during campaign sorties. I mean, really, overconfident. She even sounds more annoying in trying to sound like a sensitive, soft spoken Filipina (in this case, I'm using the term to refer to a Filipino-speaking Philippine-born female human). Well, you really don't represent, act or look like one, and trying too hard doesn't do you any good at all.